Retreats at Shaker Village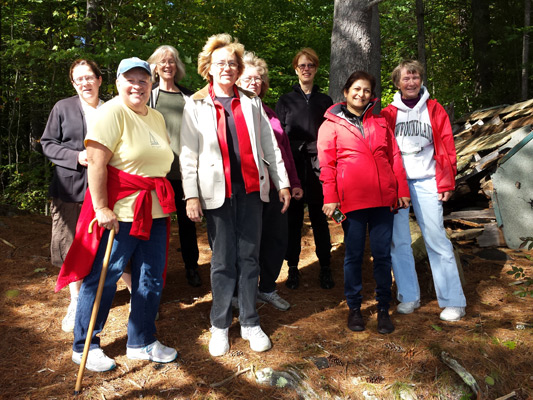 "Living a Shaker-like Life:  Work and Worship Intertwined"
A Retreat for Women
June 6 – 8, 2017
The Sabbathday Lake Shakers have been an active religious community since 1783; their agricultural activities shape their daily routines and also influence their spiritual expressions.  As the Shakers' founder Mother Ann Lee (1736-1784) stated "put your hands to work, and give your hearts to God", the Shakers believe that work and worship are inseparable as they endeavor to establish the Kingdom of Heaven upon earth.
Beloved and aged Shaker Elder Daniel Mosely (1846) in a rousing testimony during worship services once said "I can serve God with a hoe digging potatoes for my Brethren and Sisters, or with an axe if I was able […] When I come to Meeting, I feel to serve God with the whole of my ability […] I tell you Brethren and Sisters, Heaven is a lively place, as lively as a humming bird's wings […]"
Join retired United Methodist Reverend Lynne Josselyn for an immersion into the daily communal life and work of the Shakers.  Shoulder to shoulder alongside Shakers and other skilled individuals, participants will experience the rhythm of the seasonal duties in the Shakers' herb and vegetable gardens, where for more than two centuries generations of faithful souls have planted, tended, and harvested bountiful crops.  Shaker Village herbalists will provide introduction to herbs and herb culture, including the preparation of the soil, and the care and cultivation of the plants before the hands-on "dirty-knees" gardening begins.
Through presentations, discussions, research and study, participants will also explore the historical and spiritual foundations of the Shaker Church in America to better understand Shaker life as an expression of work and worship.  Personal reflective time is emphasized and group discussions will be conducted, as well as interviews with the Shakers, so that each person may gain a fuller understanding and perspective of the Shakers and, perhaps, themselves.
Participants will join the Shakers for meals, devotional prayers, and original Shaker spirituals.  Free time will be provided for quiet meditation, socializing, visiting the Shaker Museum, shopping, and hiking/walking around the property.
A detailed schedule of daily activities will be provided upon arrival during the first day of the retreat.
Fee:     $150 per person, includes room and board.
Limit:  10 people.
Customary to the Shaker tradition of communal life, bedrooms and bathrooms are shared.
For an explanation of suggested physical requirements, how to prepare for the retreat (clothing, etc), and details about the Shaker Village Retreat Center in the 1880 Trustees' Office, click here.
Click here to register online or call Lenny Brooks, Retreat Center Manager, at 207-926-3188.