woods
Showing all 2 results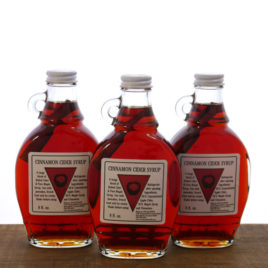 Cinnamon Cider Syrup
The Wood family had been making Boiled Cider since 1882. They grind and press apples on the farm's original screw press to make sweet cider and evaporate it in a wood-fired stainless steel evaporator. This Cinnamon Cider Syrup is their own special mixture of Boiled Cider and Maple Syrup with a stick of cinnamon. It has the apple flavor of concentrated cider but is not as tart. Use it on French toast, pancakes and waffles, or as a delicious topping on ice cream or yogurt. 8 ounces in glass jar with screw top lid. Made in Springfield, Vermont.
not rated
$

9.00
Add to cart
Nature's Outdoor Classroom
Nature's Outdoor Classroom: Hike Shaker Village.
The mysteries of the Maine woods will be explored and revealed during this approximately 2-hour guided hike through the Shakers' land. Learn about the indigenous species of birds, mammals, reptiles, amphibians, fish, plants, trees, and fungi that occupy the many, diverse habitats of Shaker Village. See evidence of glacial and geological forces that formed the land and watershed, including Sabbathday Lake from Loon's Point and the hidden treasure of Aurelia's Cascade. The hike through hayfields, forest land, and century-old logging trails will include insights to the Shakers' 200 years of land use and management. This program is designed for families, young and old, and promises a fun and memorable experience in the Maine woods. Dress for the weather and wear appropriate footwear for a 3-mile, moderate walk. Bug repellent and sunscreen recommended. Bring your camera, binoculars and bottled water. Scheduled dates for Nature's Outdoor Classroom are:
Saturday June 10, 2017: 10:30am & 2pm
Saturday July 22, 2017: 10:30am & 2pm
Saturday August 19, 2017: 10:30 am & 2pm
Saturday September 16, 2017: 10:30am & 2pm
Saturday October 7, 2017: 10:30am & 2pm
Free
: Registration encouraged, but not required. We have a limit of 12 hikers per outing.
not rated
$

0.00
Select options