salt
Showing all 2 results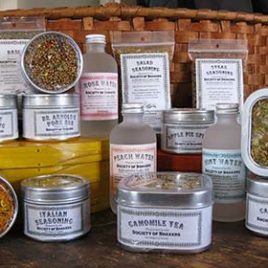 Steak Seasoning
The perfect summertime grilling blend of salt, garlic, black pepper, coriander seed, mustard seed, dill seed, and red pepper. Use as a rub on all cuts of beef or chicken. Gives a nice kick to burgers. Available in a resealable poly bag ($4) or in a 4-ounce tin canister with clear-view top ($4.95). Since 1799, the Sabbathday Lake Shakers have cultivated, packaged, and sold to the public the most popular varieties of sweet herbs and medicinal teas.  Following that same early tradition, today we offer a selection of gourmet culinary herbs, herbal blends, spices and herbal teas that represent our long and continuing heritage. Our herbs are grown in gardens more than 200 years old, dried in a facility built in 1845, and packaged in tin canisters just like those used by our forbearers throughout the 1800s. Our herbal products represent our continuing commitment to supply our customers with products of high quality and value.
not rated
$

4.00 –

$

4.95
Select options
Maine Sea Salt & Pepper Grinders
Natural sea salt, is solar-evaporated, and hand harvested in Maine. The salt crystals are tender to touch, crush with your fingers and strong with taste. Artisan sea salt seasoned by the Sun. Enjoy the Natural Saline Ocean taste that is Maine Sea Salt. Hand Harvested on the Coast of Maine and their salt making methods and spectacular taste is what makes this salt special! Kosher Certified. Available in:
Natural Sea Salt
Apple Smoked Sea Salt - great for grilling!
Maple Smoked Seal Salt - nice smoky mesquite taste, perfect for salmon and chicken.
Pepper - Black peppercorn
3.6 ounce glass grinder Pairs perfectly with our
Shaker herbs!
not rated
$

9.00 –

$

11.00
Select options