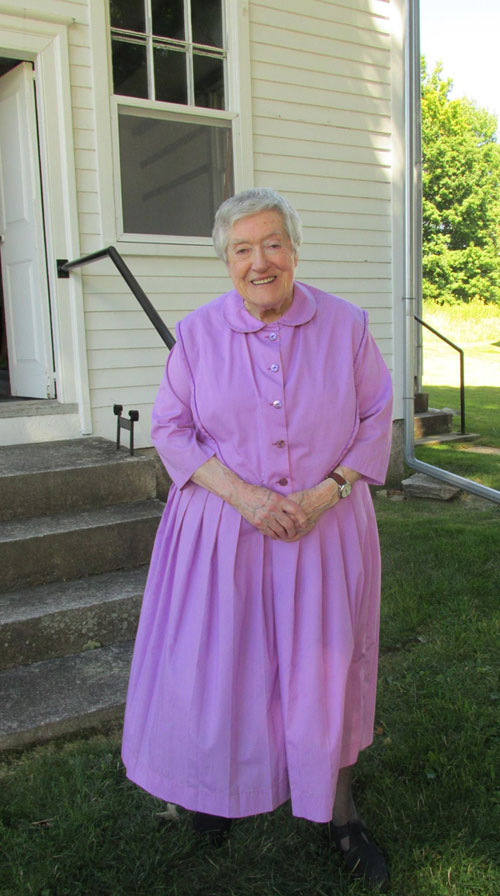 Sister Frances Carr
March 13, 1927 - January 2, 2017
Dear All:
It is our sad duty to relate that our dear Sister Frances passed away at 1:35pm today after a brief battle with cancer. The end came swiftly and with dignity surrounded by the community and her nieces. We ask your prayers for her soul.
Visiting hours will be held at Shaker Village in the brick Dwelling House on Friday, January 6th from 2pm-4pm and 6pm-8pm. Funeral services will be held in the Dwelling House Chapel on Saturday, January 7th at 1pm.
En lieu of flowers, donations may be made in her memory to Androscoggin Home Care and Hospice in Lewiston, Maine.
In Peace,
The Sabbathday Lake Shakers
We make you freely welcome.
Established in 1783, Sabbathday Lake Shaker Village in New Gloucester is home to the only active Shaker Community in the world today. Situated on 1,800 acres of farm and forest land with seventeen historic structures from the 1780s through the 1950s, the Village continues to be a place where, we, the Shakers, live, work, and worship. "Put your hands to work, and give your hearts to God" continues to be our guiding principle, as expressed by our leader Mother Ann Lee more than 230 years ago.
Best-known today for popular styles of 19th century furniture and crafts, the Shaker legacy includes many achievements in social reform, agriculture, technology, and innovation. The flat broom, the circular saw blade, the spring clothespin, chair tilter buttons, and the paper seed envelope are all among a long list of Shaker inventions. We welcome visitors to experience parts of our history and on-going heritage through our museum, research library, traditional craft workshops, concerts, educational programs, membership support group, and our Sunday worship services.